August 12, 2023
Binational Science Foundation Grant recipient ($120K)
THE VIRTUOUS CYCLE OF INNOVATION AND CAPITAL
WITH NAOMI HAUSMAN (Hebrew University) DANIEL C. FEHDER (University of Southern California)
Does local innovation attract venture capital? Using a regime change in the commercialization of university innovation in 1980 that strongly increased university incentives to patent and license discoveries, we document the complement to Kortum and Lerner (2000)'s finding that financing leads to future innovation. Because universities have different technological strengths, each local area surrounding a university experienced an increase after 1980 in innovation relevant to particular sets of industries which differed widely across university counties. Comparing industries within a county that were more versus less related to the local university's innovative strengths, we show that venture capital dollars after 1980 flowed systematically towards geographic areas and industries with the greatest sudden influx of innovation from universities. In contrast, the geographic and industry distributions of corporate patenting and prior venture financing in the pre-period do not predict a differential increase in future venture financing, suggesting that our findings are not solely driven by the 1979 pension fund reform that increased financing available to VCs across the board. The results support the notion of a "virtuous cycle" wherein innovation serves to draw capital investment that then funds future innovation.
PDF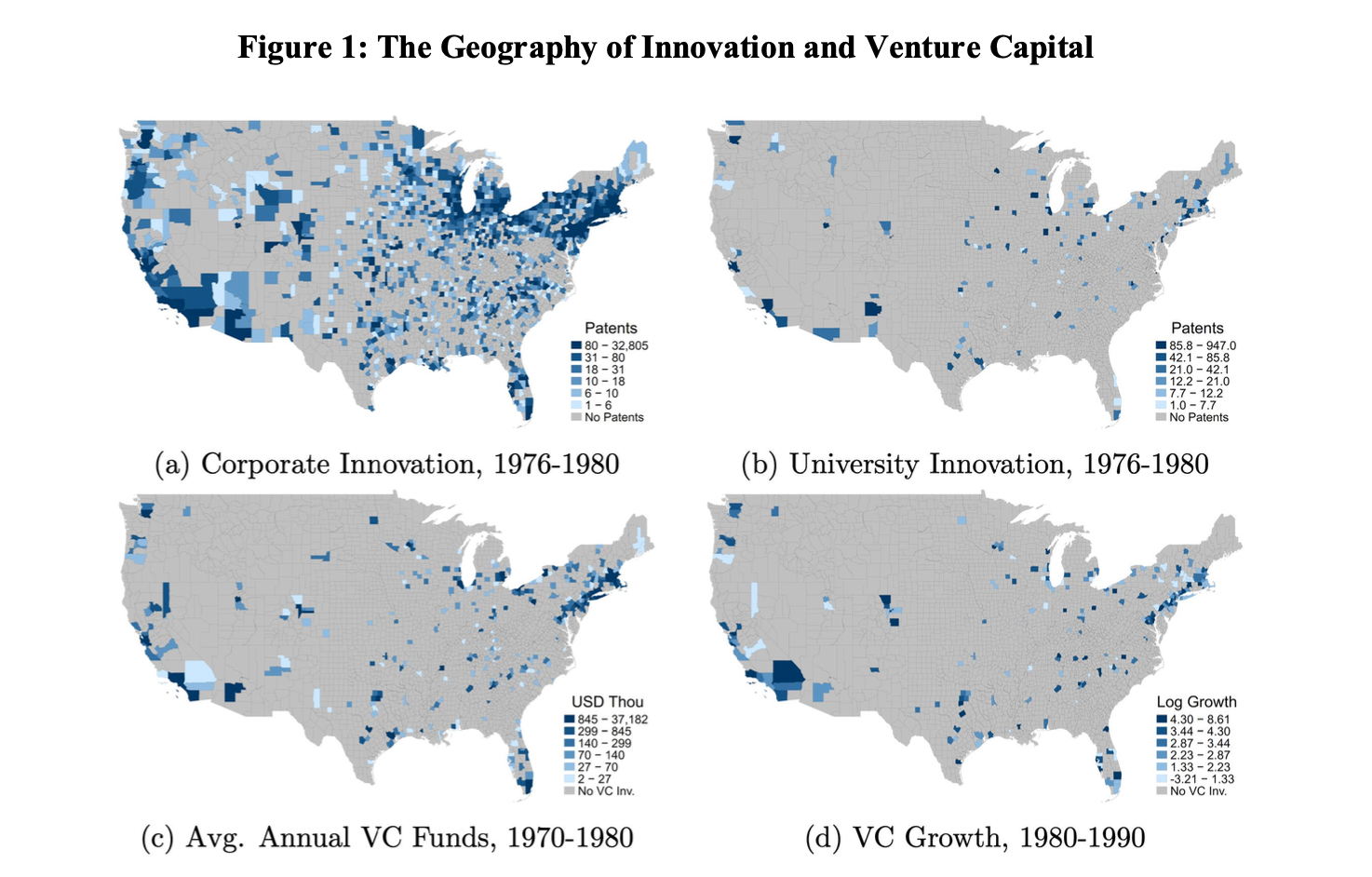 August 2023
Inventor Gender and Patent Undercitation: Evidence from Causal Text Estimation
WITH ALI KAKHBOD (UC Berkeley) PEIYAO LI (UC Berkeley) KUNAL SACHDEVA (Rice University)
Implementing a state-of-the-art machine learning technique for causal identification from text data (C-TEXT), we document that patents authored by female inventors are under-cited relative to those authored by males. Relative to what the same patent would be predicted to receive had the lead inventor instead been male, patents with a female lead inventor receive 10% fewer citations. Patents with male lead inventors tend to undercite past patents with female lead inventors, while patent examiners of both genders appear to be more even-handed in the citations they add to patent applications. For female inventors, market-based measures of patent value load sig- nificantly on the citation counts that would be predicted by C-TEXT, but do not load significantly on actual forward citations. The under-recognition of female-authored patents likely has implications for the allocation of talent in the economy.
PDF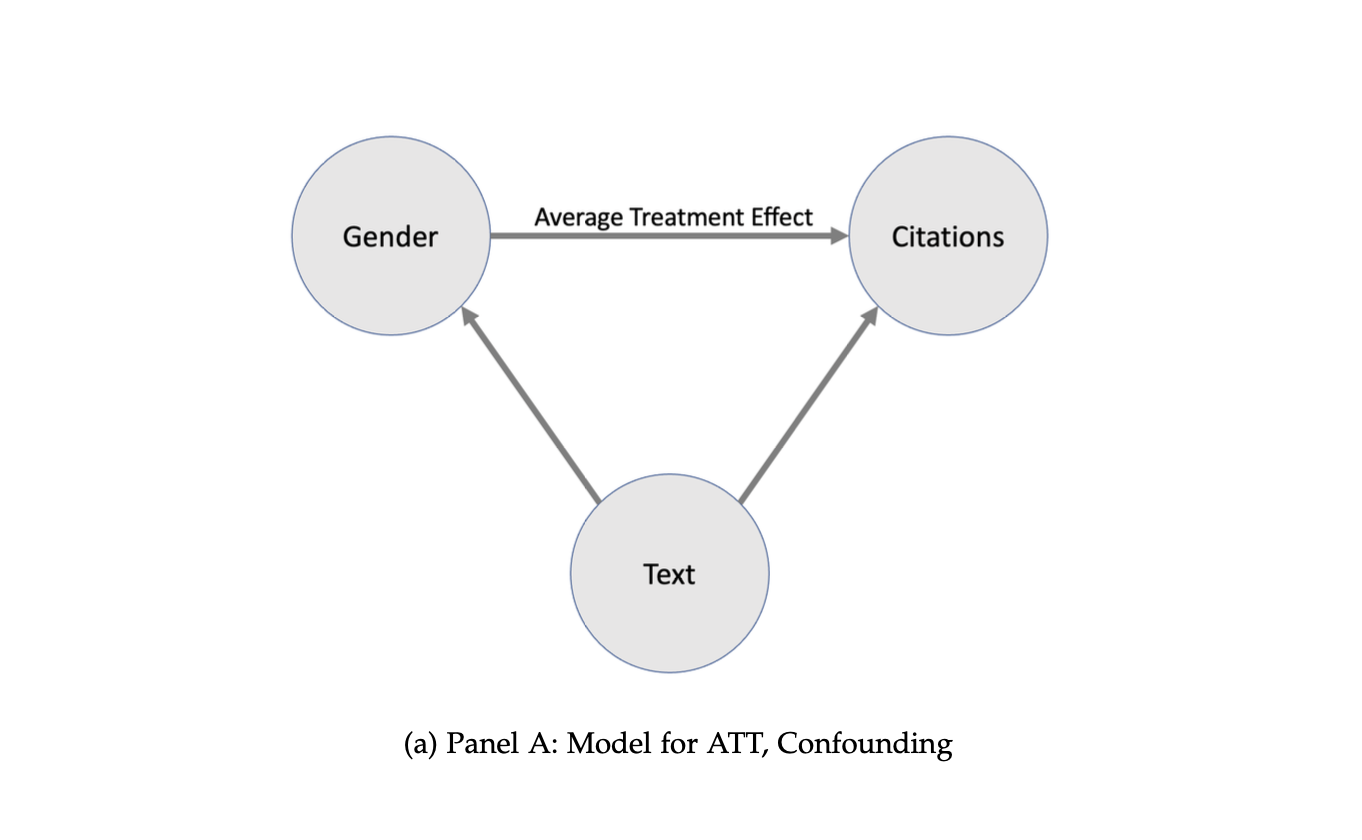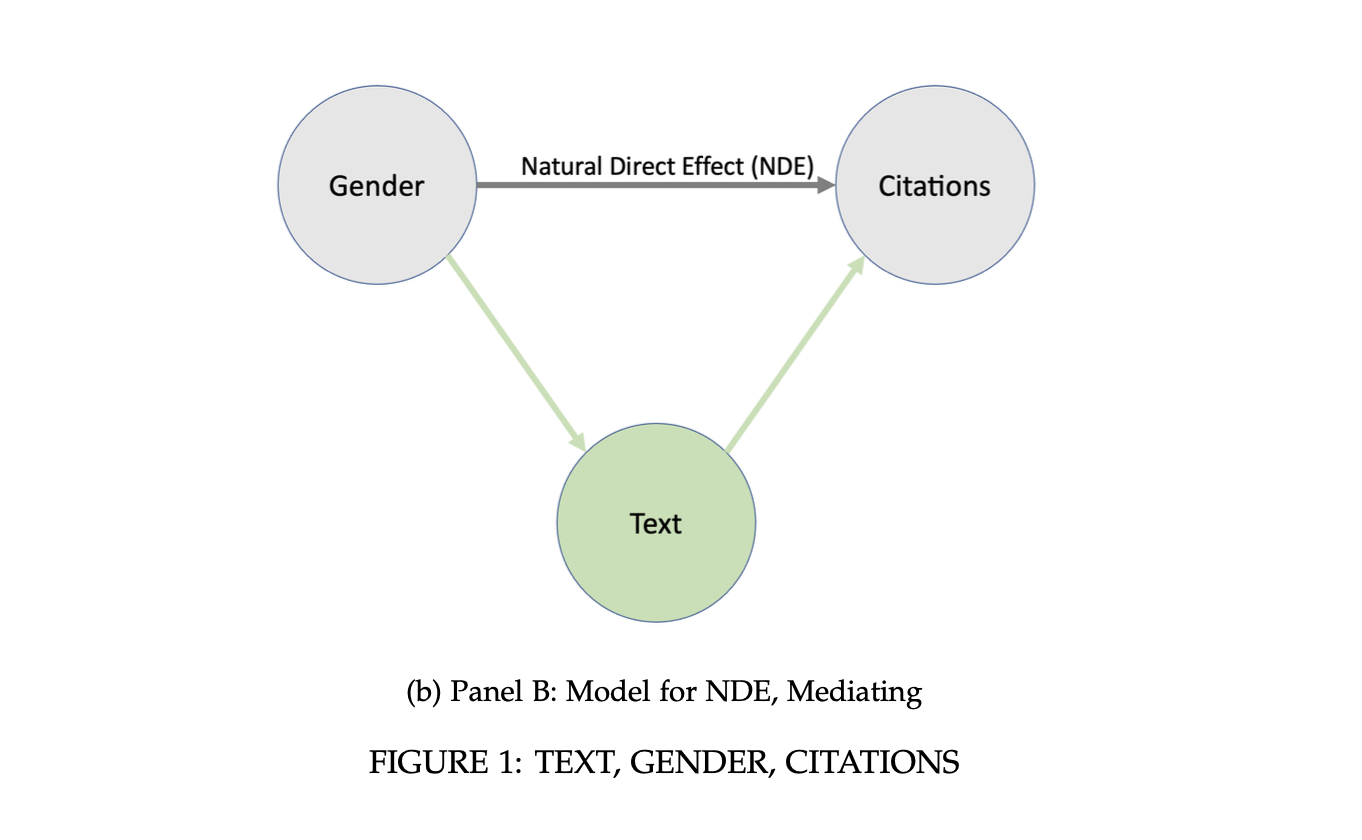 June 2023
Commissioned by Journal of Economic Literature, under third round review
Innovation-Driven Entrepreneurship
WITH TRISTAN L. BOTELHO, DANIEL C. FEHDER
Entrepreneurship is a key driver of economic growth. While the definition of entrepreneurship ranges from self- employment, to small-and-medium sized enterprises, to technology- and innovation-driven startups, recent research suggests that economic growth is driven not by overall quantity of new firm entry, but rather by a small subset of high- growth entrepreneurial firms that are primarily categorized as innovation-driven. This paper provides a review of the growing literature on the economics of such innovation-driven entrepreneurship. We begin by distinguishing between the various forms of entrepreneurship, which are often confounded in both theory and empirical work. We then lay out the current state of knowledge across significant areas of economic research, and describe the challenges faced by researchers in the field, particularly around measurement, data, and identification. We conclude with an overview of the major open questions and directions for future research in the area.
PDF
2023
Kauffman Foundation grant recipient ($1.5M)
Learning When to Quit: A Field Experiment with Innovation-Driven Startups
WITH ESTHER BAILEY, DANIEL FEHDER, ERIC FLOYD and DANIEL LEE
We evaluate the effects of entrepreneurial training programs on survival and performance for innovation-driven startups. We randomize an intensive short-term curriculum similar to training programs offered by accelerators and executive education programs in US business schools to 553 science- and tech-based startups in 12 incubator and co-working spaces across the US. Treated startups are more likely to shut down their businesses, and do so sooner than the control group, who are more likely to pivot to new customer segments, business models, or product offerings than shut down. Conditional on survival, however, treated startups are more likely to raise external funding for their ventures. Treated founders who abandon their startups are less likely to pursue a new startup for their next job. Our findings are consistent with practitioner arguments that early entrepreneurship training interventions can help entrepreneurs with less viable ventures or who are less suited to entrepreneurship "fail fast," reducing opportunity cost. We use novel machine learning techniques developed by Athey et al. (2019) and Chernozhukov et al. (2018) to identify the most impacted subgroups.
PDF
August 2022
Revise and Resubmit, Journal of Accounting Research
Initial Public Offering and New Business Formation: The Role of Public Firm Disclosures
WITH JOHN M. BARRIOS (Washington University in St. Louis & NBER) HANYI YI (Boston College) JINHWAN KIM (Stanford University) MIAO LIU (Babson College)
We investigate the potential spillovers of local initial public offerings (IPOs) on local new business formation. New IPOs are associated with a 4% to 10% increase in new business registrations in the public company's geographic area. These effects are magnified in counties with more uncertain economic conditions. Consistent with an information channel, new business registrations positively relate to Edgar downloads of IPO firm public disclosures, and increased download activity further magnifies the effect. Our findings are consistent with public firm disclosures by IPO firms providing information that facilitates new business formation. Additionally, we find similar effects for a financing channel, furthering our inferences as to the positive spillovers from IPOs. Finally, we show that the consumption of IPO firm public disclosures is further associated with entrepreneurial success.
PDF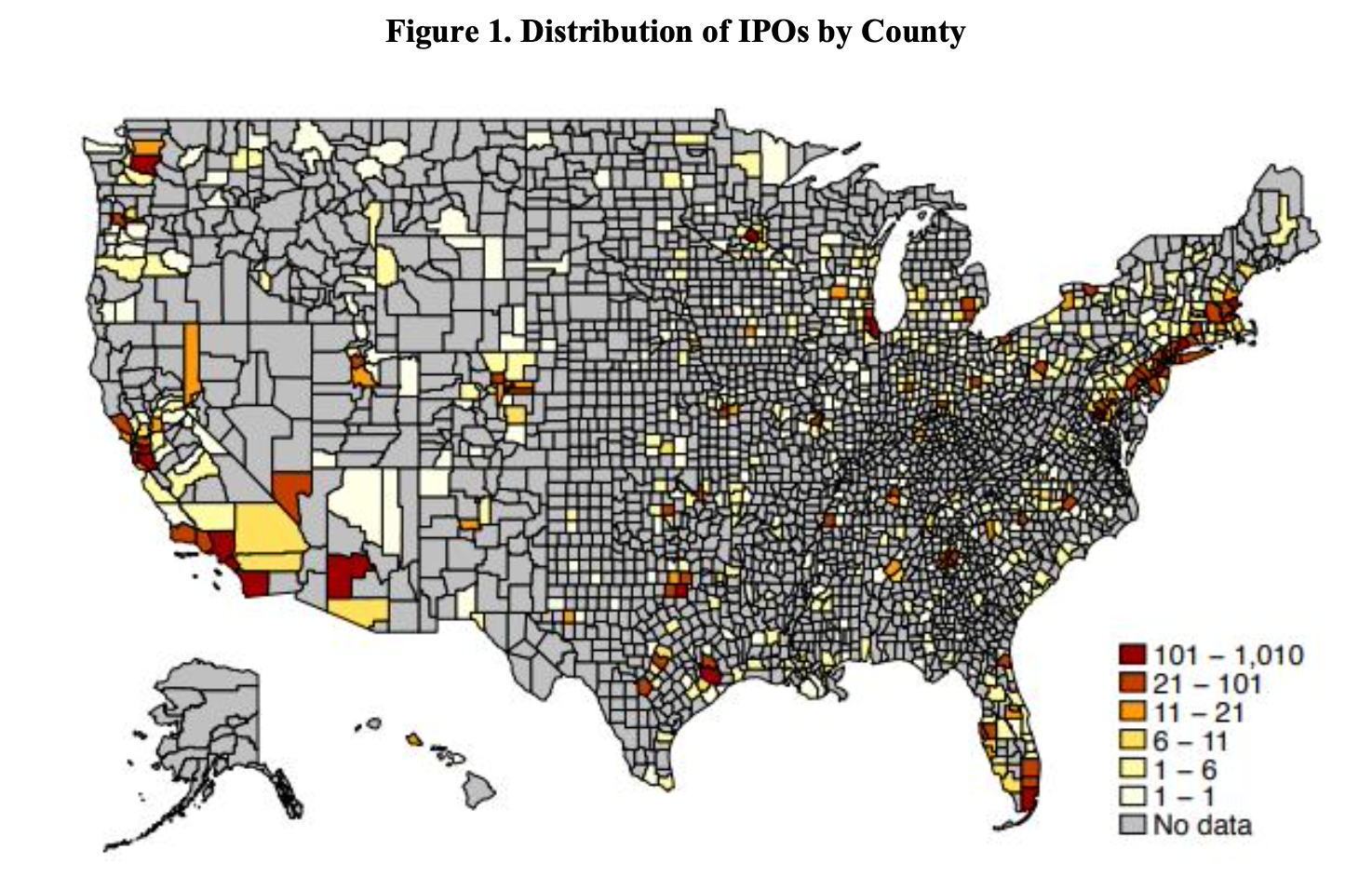 2023
Kauffman Foundation grant recipient ($1.5M)
Something in the Water? Persistence in the Geographic Distribution of Entrepreneurial and Innovative Activities
WITH JOHN BARRIOS, DANIELLE MACCIOCCH
We document that 75% of the geographic variation in new business formation and innovative activity in the U.S. is explained by unobserved time-invariant county-level factors, and cannot be explained by contemporary variables known to be related to entrepreneurial activity and risk taking. Our study points to the potential for a fundamental role of historical-cultural and other time-invariant features in explaining the geographic distribution of contemporary innovation and new business formation in the U.S.
PDF
Rugged Entrepreneurs: Individualism and The Geographic Distribution of New Business Formation
WITH JOHN BARRIOS, DANIELLE MACCIOCCH
This paper examines the intricate relationship between historical conditions and the geographic distribution of new business formation in the United States. Drawing on recent research indicating significant geographic clustering of entrepreneurial activity, we investigate the influence of historical frontier conditions that fostered a culture of "rugged individualism" in certain regions of the US. We demonstrate that the location of entrepreneurial activity in modern times can be attributed, in part, to the enduring effects of historical-cultural factors. The effect on modern day entrepreneurial activity appears to flow through both formal institutions and informal transmission of cultural norms. Our findings contribute to the understanding of the factors driving new business formation and highlight the importance of historical roots in shaping contemporary entrepreneurial landscapes.
University Research, Technology Commercialization, and Location
WITH DANIEL FEHDER, NAOMI HAUSMAN, and DANIEL LEE
COMING SOON
2021
National Science Foundation SciSIP Grant Recipient (~$450K)
Kauffman Foundation Grant Recipient ($20K)
Can Accelerators Accelerate Local High-Growth Entrepreneurship? Evidence from Venture-Backed Startups
WITH DANIEL C. FEHDER (University of Southern California)
We examine the spillover effects of seed accelerator programs on local startup company activity. Using a difference-in-differences approach that utilizes the staggered introduction of accelerators combined with matching methods and synthetic control methodologies, we assess the impact of an accelerator's arrival on the volume of local seed and early stage VC deals, excluding the accelerator's own portfolio companies. Accelerator arrival is associated with a significant increase deal volume external to the accelerator cohorts; this increase is driven both by outside investor groups and the emergence of new local early stage investors. Our findings support the notion that an accelerator can lead to peer effects and provision of role models in the ecosystem that encourage additional local entrepreneurial spillover activity.
The Impact of COVID-19 Crisis on Risk Tolerance for Innovation-Driven Entrepreneurs
WITH ESTHER BAILEY, DANIEL FEHDER, ERIC FLOYD and DANIEL LEE
Innovation-driven entrepreneurship is a primary driver of economic growth. We examine how the risk tolerance of innovation-driven entrepreneurs changes during the COVID-19 pandemic, and further explore potential moderators of these changes. In a sample of innovation-driven entrepreneurs tracked both pre-COVID and during the pandemic, we find that risk tolerance drops significantly in the wake of COVID-19. Female entrepreneurs, entrepreneurs who scored high on Big 5 Agreeableness in pre-COVID measurement, and male entrepreneurs who are less optimistic at baseline exhibit larger decreases in risk tolerance. Our findings shed light on the interconnections between personality, gender and changes in risk aversion in response to crises, and have important implications for our understanding of how risk-taking by entrepreneurs may be affected by the COVID-19 pandemic, and, in turn, affect both business dynamism patterns and the male-female entrepreneurship gap.
2019
NASA Translational Research Institute for Space Health Grant Recipient (~$152K)
What Resources Garner Managerial Attention in Startups? Evidence from a Randomized Controlled Trial
WITH DANIEL C. FEHDER, DANIEL LEE
Do startups pursue all new opportunities to acquire resources as they emerge? Or are they selective based on their prior strategic investments? We explore these questions with a randomized field experiment measuring managerial attention in startups. We offer a variety of entrepreneurial resources to high-tech, healthcare startups, and measure how their responses vary depending on the opportunity offered, prior strategic commitments made by the startup and prior resources acquired. Our findings suggest that startups vary in their levels of attention to new resource opportunities as a function of their prior strategic choices and acquired resources. By observing how new firm founders respond to a new, unexpected prompt for a potential connection to a valuable resource, we make progress towards developing a more concrete understanding of the interplay between planned/deliberate activity and improvisation in the entrepreneurial process.
The Impact of COVID-19 on Innovation-Driven Startups: Survey Evidence
WITH ESTHER BAILEY, DANIEL FEHDER, ERIC FLOYD and DANIEL LEE
Rice Faculty Innovation Fund grant recipient ($50K)
University of Chicago Polsky Center grant recipient ($20K)
University of Chicago IGM grant recipient ($40K)
Entrepreneurship, Attitudes, and Economic Prosperity: Evidence from an RCT in the Palestinian West Bank
WITH REBECCA DIZON-ROSS, DANIEL FEHDER, ERIC FLOYD, JOSHUA KRIEGER, and DANIEL LEE
Innovation Growth Lab grant recipient (~$90K)
The Effect of Geographic and Network Frictions on Entrepreneurial Entry: Evidence from a Randomized Controlled Trial
WITH DANIEL FEHDER, ERIC FLOYD, and DANIEL LEE
Accelerating Startups: The Seed Accelerator Phenomenon
WITH SUSAN COHEN
2014
Real Estate Research Institute 2012 Grant Recipient
Capital-Market Competitiveness and Managerial Investment Decisions: Evidence from Commercial Real Estate
WITH TOBIAS MUHLHOFER
The Size and Specialization of Direct Investment Portfolios
WITH MARK WESTERFIELD
Information in the Time-Series Dynamics of Earnings Management: Evidence from Insider Trading and Stock Returns
WITH YIGAL NEWMAN, MICHAEL RIERSON